CZECH VETERAN CHAMPION

"CINDY" CLEA Z BRODU NAD TICHOU
*25. 5. 1996
† 9. 9. 2007
"My tears dropped over my face......
You wast first and in my heart always you will have place."

Summer 2000
Breeder: Ládr Rudolf
FULLDENTITION
DKK 0/0
(x-ray of hip joints)


SHOW RESULTS:
CZECH VETERAN CHAMPION
CLUBCHAMPION ČKRR
CACIB, r. CACIB
Winner Poznan
2x CWC, CAC
2x r. CAC, CAJC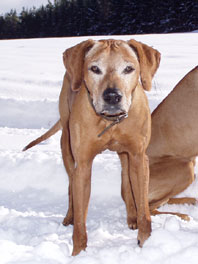 January 2007
January 2007
On Sunday 28 May 2006 "granny" Cindy ran on celebration his birthday training coursing.
Have a look , how her it go!! A in what is splendid condition!!!
28 May 2006
28 May 2006 - so when already will run??!
stárrrrt!

already run...!! !!!
foto: Pavel Vorlíček


Of the day 25 May 2006 Cindy celebrated his anniversary 10 the birthday full - strength and health.
Thank you her behind all you beautiful and pass moment and I hope that the with us will contentedly live yet another much years.
25 May 2006
25 May 2006 - celebration 10 birthday!!
March 2006

Come along play! ....Well am yet young girl !!
| | | |
| --- | --- | --- |
| | | |
| January 2005 | February 2005 | March 2005 |
| | | |
| --- | --- | --- |
| | | |
| | January 2005 | |
coursing Kolín 8. 5. 2004
| | | |
| --- | --- | --- |
| | | |
| | coursing Kolín 8. 5. 2004 | |
foto: Jiří Křivánek (Pes Jíra)